Secret Cornish Coves
With lots of attractions and places to visit operating at a reduced capacity this summer, avoid the crowds and the queues by going off the beaten track! We are truly spoilt for choice and never being more than 13 miles away from a beach means the hardest decision can often be which beach to visit first! We've picked five tucked away coves that you may never have heard of but you must explore this summer…
Secret Cornish Coves – You Have To Visit This Summer
Tick some of Cornwall's most remote and beautiful beaches off your list this summer! Explore
rugged coastlines, dreamy bays and Caribbean like coves – these are some of the most hidden places in Cornwall that are just waiting to be discovered. Travel from coast to coast to beaches that offer a more peaceful and natural experience – some of them are not even on Google Maps but all of them are serious stunners!
Sennen Cove
This simply stunning cove can be found at the south of Cornwall, just before Land's End. You'll find sumptuously soft white sands and crystal clear water that will have you reaching for your swimsuit in no time. Stroll around the cove and soak up the Cornish sun while listening to the waves lapping up against the shore. Be sure to walk up into the dunes and take in the glorious views from all angles of this gorgeous cove, it just gets better and better. 
How far from Wooda? 1 hour 50 minute drive
Kynance Cove
A true classic of Cornwall. Kynance is so beautifully picturesque and boasts clifftops views that will take your breath away. Once you take the short walk from the car park down to the Cove you'll see why. It's a long way down to carry a cool box or picnic basket  – so we recommend the fantastic little café full of tasty treats and cooling refreshments! The ice creams are DELICIOUS!
How far from Wooda? 1 hour 50 minute drive
Daymer Bay
Sat between Rock and Polzeath, Daymer Bay offers the best of everything with beautiful soft white sand, rock pools and pebbled shores at low tide. If you like an adventure, there's a hidden church you can find behind the dunes! There's a small stream running to the sea, perfect for 'damn' building with small children – this beach suits all ages and is easily accessible with a large car park within easy reach. A favourite with the locals, is the walk to Rock which can be done at low tide. Grab a coffee and lunch in the village then walk the sand dunes back with a wonderful elevated view of the clear waters and surrounding towns.
How far from Wooda? 50 minute drive
Porthcurno 
A slice of the Caribbean in Cornwall! Just below the famous Minnack Theatre, Porthcurno is a firm favourite of ours. Although a long way from Wooda it is worth the drive because the views are spectacular! Set off early and spend the morning relaxing on the soft white sand before heading off to nearby Land's End to have your photograph taken next to the famous sign and then finish your day with fish and chips sat on Sennen beach before making your way back to Wooda.
If you want to really go off the beaten track, head to Porthcurno's sister beach, Pedn Vounder. Less accessible as you need to clamber down the cliff to access the beach so not suitable for little ones and if you are attempting it, make sure you wear trainers! If a climb down a cliff sounds like too much, pack a picnic and enjoy the breath-taking views from the top of the cliff. The best way to access Pedn Vounder beach is from Treen car park – please note this beach is only accessible at low tide and you must check the tide times before you visit! Be warned it is also a nudist beach 😳.
How far from Wooda? 1 hour 50 minute drive
Trevaunance Cove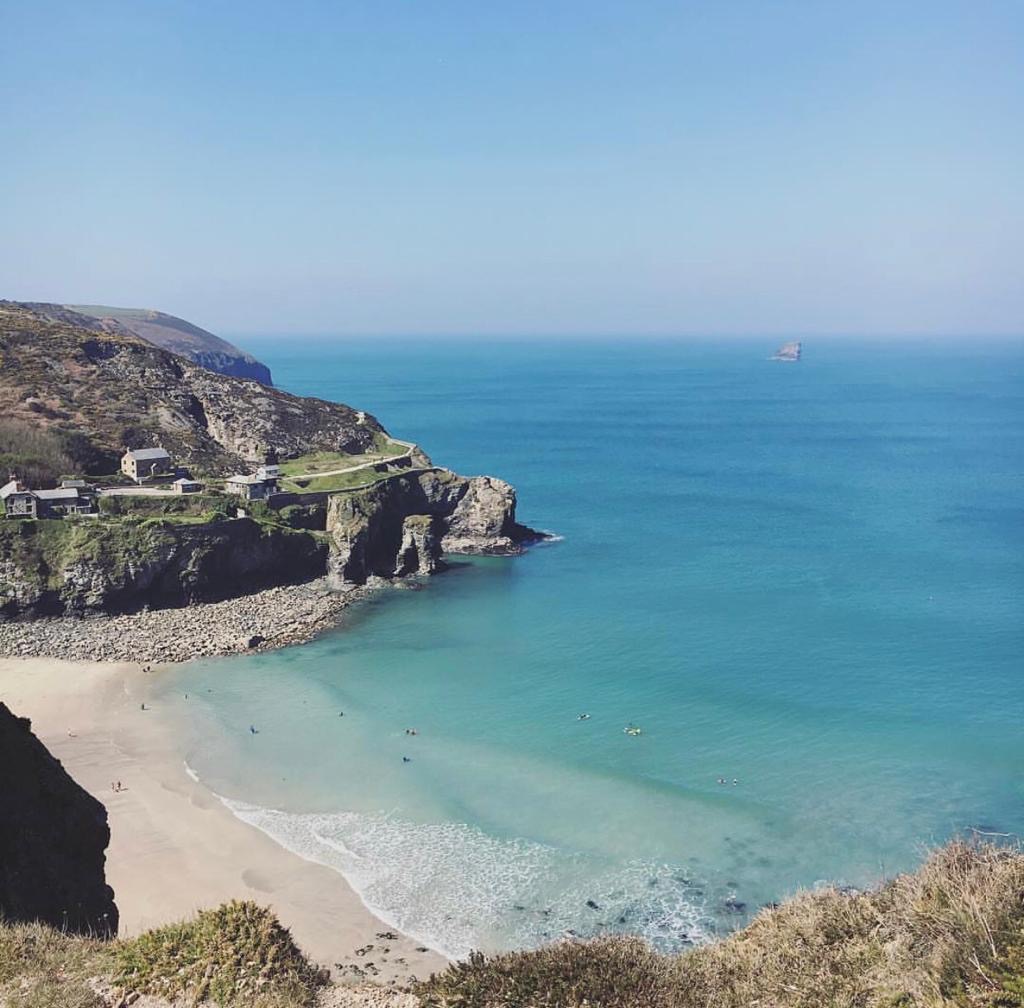 Last but by no means least is Trevaunance Cove, hidden in the quaint town of St.Agnes on Cornwall's north coast this pretty cove is definitely worth a visit. If you're a keen surfer then this will tick all of your boxes. St.Agnes will also provide you with some of the best sunsets during the summer months which you can view from the Beacon or 'Schooners' bar and restaurant right above the beach. 
How far from Wooda? 1 hour 15 minute drive
Whist you enjoy your holiday and our stunning beaches in Cornwall just remember one thing. 
"Take only photos and leave only footprints"